Salto Systems Electronic Access Control
Guided by their insights into customer needs, SALTO delivers industry-leading, next-generation electronic locking solutions without wires and without mechanical keys. SALTO allows you to expand your security solution as and where required when funding becomes available, areas of the building change or when you require higher security.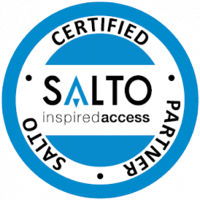 SALTO Virtual Network (SVN)
The SALTO Virtual Network provides high security with optimum control and advanced technology. The introduction of the SALTO Virtual Network SVN data-on-card technology and the battery-operated wire-free electronic lock range in 2001 revolutionised access control.
SVN provides the flexibility for an access control system to begin initially as a small number of doors and users to a large number of doors and users.
In simple it allows stand-alone locks to read, receive and write information via an encrypted and secure data-on-card system, utilising the capabilities of RFID read/write technology. SVN ensures all access data is stored on and distributed by its operating smartcard. The system design ensures that the smartcard transmits two-way information as depicted by the graphics below.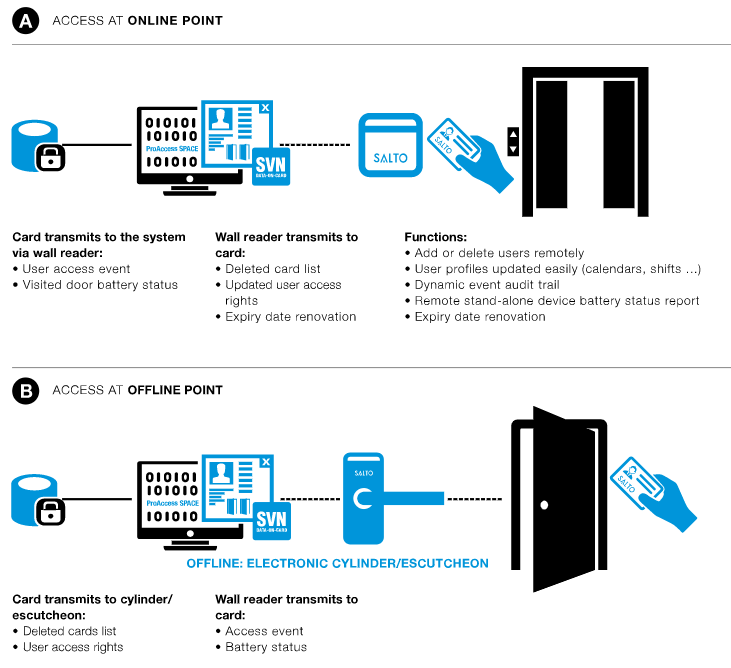 SALTO SVN-Flex
Card updating at the door, giving you a new sense of freedom.
The SVN-Flex is the newest feature of the SALTO network, technology making keyless and wire-free buildings a reality. The SVN-Flex allows any stand-alone electronic locks to read and update card access information. Virtually any door and any access point can be an updating point.
The SVN-Flex network improves efficiency, reliability and increases security, control and convenience for users whilst reducing the cost of installation.
There are no restrictions, any door serves as a hotspot. SVN-Flex functionality can be enabled on new SALTO latest generation electronic locks including XS4 One, XS4 Mini, XS4 Mini ANSI and AElement Fusion.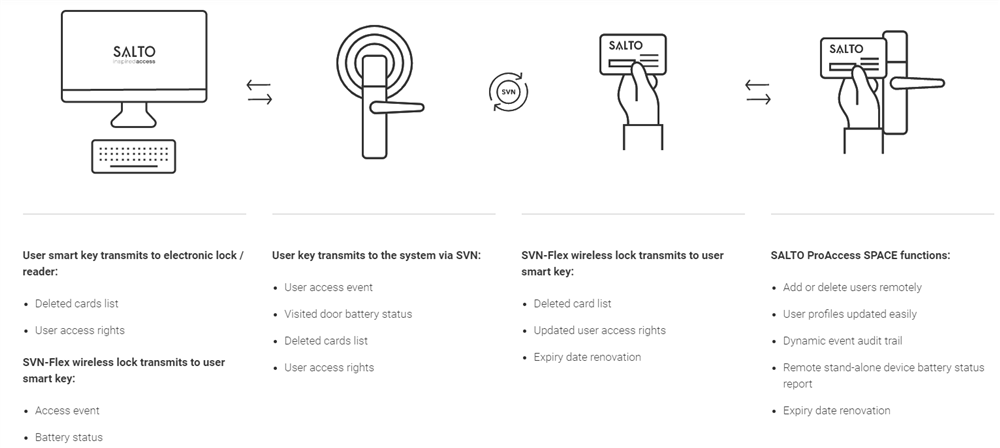 SALTO Wireless
Wireless real-time access control system.
SALTO have developed the XS4 Wireless online solution, designed for applications that need high level real-time access control to further the level of security.
SALTO Wireless can be used as an independent system or as a complement to SALTO Virtual Network (SVN) and hardwired IP solutions. The system allows you to download audit trail information for real-time control, delete users remotely and securely, collect battery status for maintenance from a single PC and all in real-time.
JustIN Mobile
With SALTO JustIN technology smartphones can be integrated conveniently and beneficially into access control solutions. Utilising Bluetooth Low Energy (BLE) for communicating between the smartphone and electronic locks. Mobile keys are sent over the air via a management software to an installed JustIN Mobile app for a registered and verified smartphone.
The user receives a message that they have a new key and for which doors they have access rights.
All data transmission and the mobile key itself are encrypted and secured.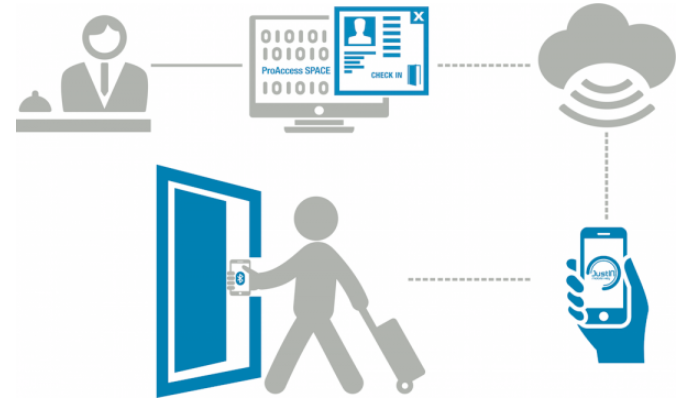 JustIN mSVN
JustIN mSVN is a mobile SALTO Virtual Network is a technology developed by SALTO for updating access rights for credentials employing mobile communications. Essentially the SVN can be expanded to locations where no online wall reader is available. With mSVN access rights can be updated via direct communication between the smartphone and the credential exactly where and when these are needed. All data transfer is encrypted and secured.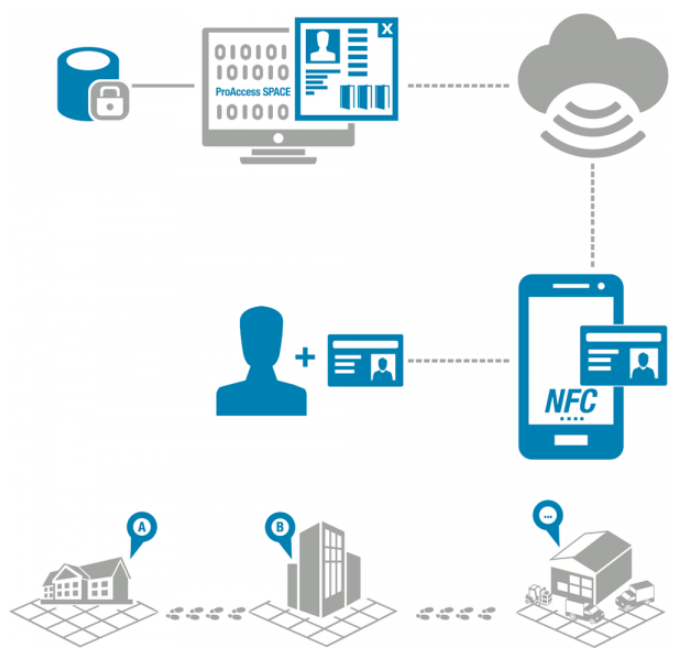 SALTO KS
Cloud-based access control, for any company type or size.
With KS you can send mobile keys to anyone with a smartphone, creating an easier and more flexible system. Removing the need for managing mechanical keys and providing an audit trail so you can view where and when users are accessing doors and block users on the go.
SALTO Systems
With innovative electronic locking systems offering flexible and functional access control ensures there is no hard wiring required with their wire free system. Reducing costs by allowing the existing locks and doors to be retained, offering a system that can easily be retrofitted and adapt to your current security structure.
For nearly 20 years SALTO has been synonymous with innovative solutions, including stand-alone, cloud-based and mobile applications that set new standards in security, manageability, flexibility and design that brings real-world benefit to virtually any type of door.
The advantages SALTO Systems offer include:
Designed to work in a wire free environment with no intrusive hardwiring required
Cuts maintenance costs by eliminating the costly expense of re-keying locks
Real time management with ability to control who can open doors during time periods and cancellation of cards when required
Provides audit trail reports
SALTO Systems are not available to purchase online. Please contact us on 1800 555 700 or email your local state security solutions specialist for queries, pricing and installation information.